Give children SUMMER!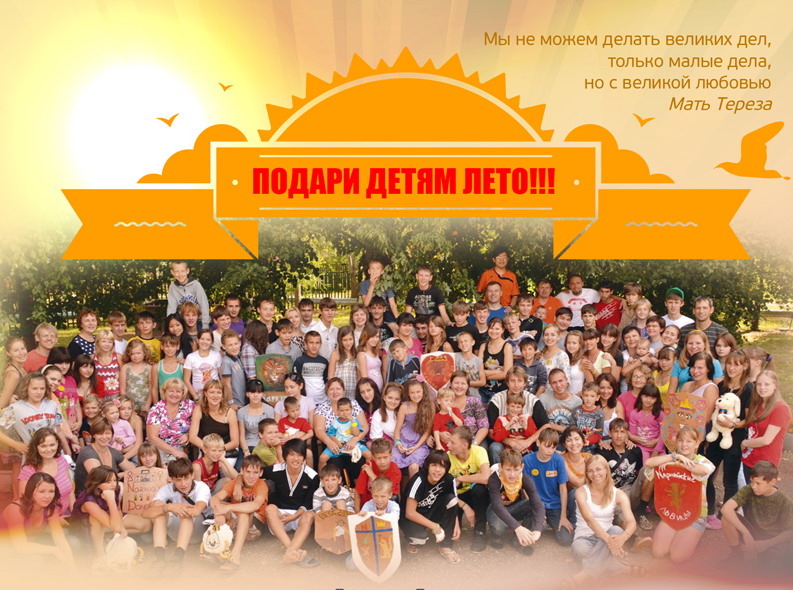 Dear friends, it's summer at last, and the time for our long-expected charitable project is nearing – time for the orphaned children summer camp.
From July 28 through August 12 we are planning to organize a camp in the Istra region for children and leavers of orphan homes in Chekhov, Ivanovo, Kondorovo, Moscow , Orekhovo-Zuevo and Reshma.
The main idea our camp's program: No one can change your life other than yourself.
The camp targets at rescuing the orphan child from the unimaginative atmosphere of an orphanage and surrounding him or her with love and warmth, showing he or she is special, important, precious and talented.
Our entire team of volunteers is lovingly committed to making the camp a bright and unforgettable, informative and breath-taking event. We are working on the agenda, preparing exciting games, bright decorations and costumes.
But we can't do without your help.
Accommodation per child is 11,650 Rubles (365 Dollars). The total cost of accommodating 100 children is considerable.
We sincerely appreciate that each year your participation gives us an opportunity to organize charity camps for orphaned children.  If 1,000 people donate a thousand rubles each, this money would be enough.
We are happy to have so many faithful friends. This time we also very much hope you will give us your support.
If you would like to help us, participate financially, join us in our work, support us by means of spreading information, please write to us or call us.
We need to collect the money before July 15, 2013. You can make a donation to our bank account or in cash.
Each donor may come to visit our camp on the Open Doors Day and see for himself or herself that the donation has been used appropriately.
Please tell your acquaintances and friends about the upcoming camp. Maybe, learning about the project, they would like to participate.
The video report on 2008-2012 camps can be found at our site www.milera.ru or at:
Thank you in advance for your participation! Any help, whether financial or informational, is welcome.
We would appreciate your donating guitars (for the music club), cameras (for the photo club), sports gear and craft kits.
With the utmost respect,
ERA of MERCY Regional Non-Governmental Organization for Orphans Support.
For more information, please contact the project leaders:
Svetlana Smirnova, 8-905-538-37-04, mediafresh@mail.ru
Natalia Karpova, 8-926-561-49-93, karpona@mail.ru
Elena Solovieva, 8-910-433-64-55, milera81@gmail.com